Perth Meditation Courses & Coaching draws upon the talented resources of a national network of teachers as well as medical specialists, psychologists, counselors, health professionals and creative production specialists in Sydney, Melbourne, Adelaide and Perth. Guiding PMC&C's approach is Director
Kevin Hume
. He began teaching meditation and mindfulness in 2002 after retiring from high level, high stress communication roles in the NSW public service as Media Adviser to the President of the NSW Anti-Discrimination Board, former Liberal Senator Chris Puplick and with Margaret Wilson, Attorney General and Minister of Labour, Justice (Public Law), State Services (Governance) and Treaty of Waitangi Obligations, a senior cabinet minister in Helen Clark's Labor Government in New Zealand. In 2007 he established the Sydney Meditation Centre and in June 2019 he  returned to Perth to continue his highly acclaimed work as Director of Perth Meditation Courses & Coaching.
What Makes Us Unique
Our emphasis on what's effective, easily-practised and relevant to our busy contemporary urban lives.
Our approach grounded in reputable academic research as well as tried and tested techniques taught to thousands of Australians from all walks of life.
Proven results. You can check out a sampling of opinions throughout this website in comments from those who've enjoyed our quality courses.
While we draw from a variety of ancient spiritual and cultural traditions, as well as modern scientific understandings, we are not captive to any particular religious or philosophical tradition.
Who We Are
Blending East and West, Kevin Hume specializes in executive mentoring using meditation as a personal therapeutic and performance base. His unique teaching methods distill his considerable life experiences as a high-level communicator and participant-observer in the media, politics and corporate life. He has a particular interest in the science of meditation, as well as in the cultures and traditions from which such techniques are drawn.
He was introduced to meditation in 1992 by renowned meditation teacher and internationally bestselling author, Eric Harrison of the Perth Meditation Centre, with whom he now works in professional association. Along with numerous individual clients, he has provided programs for such high profile corporate clients as Saatchi & Saatchi, Du Pont Australia, Austar Entertainment, The CEO Institute, Commonwealth Bank, PricewaterhouseCoopers, Deloitte, Australian Human Rights Commission, Australia Council for the Arts and more.
His teaching skills and understandings were recently displayed in his six-part meditation series 'Meditation in Six Spiritual Traditions' and 'Science and the Buddha,' which were commissioned and played nationwide by ABC Radio and across Asia and the Pacific for Radio Australia.
An experienced conference facilitator, he was also host presenter in 2008 at the Melbourne Museum, 2009 Melbourne Convention Centre, 2010 RMIT Storey Hall of Meditation Events' Australian National Meditation Conference and 2018 at the Australian Catholic University as part of Meditation Australia's inaguaral conference, bringing together the best in meditation practice and neuroscience with Australia's leading teachers and academic researchers.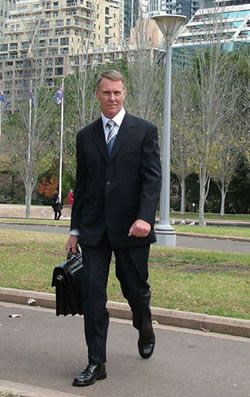 'I have a highly stressful job. This course gave me the skills to relax in stressful moments and also how to focus when I need to. Kevin is a great teacher making the course just so easy.'
Stuart Rodriguez, Commercial Real Estate Agent
'Kevin is a natural for meditation teaching – obviously vastly experienced – knowledgeable on many streams of thinking – humorous – and the ability to blend the right mix of talk and practice.'
Peter Bliss, General Manager, SR Events Company and Qi Gong teacher, Sydney.